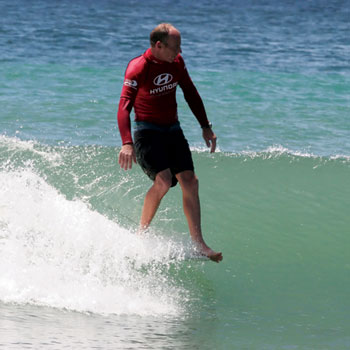 I was born in 1956 in Raglan, New Zealand. My family farmed at Ruapuke and then Wainui Road, a couple of miles from Manu Bay, but being a Raglan boy, you could say I was doomed from the start. I started surfing in 1971 on a Bob Davies 6' single fin. Raglan was a pretty international spot even then, and my main early influences included the many visiting Aussie and American surfers. It was a time of rapid change in surfboard design, and board sizes rapidly stretched out to 7'5" pintails before settling back into the mid 6's.
As a nineteen year old with saltwater dripping from my nostrils, I didn't fancy dagging sheep for a living, so got a job making Clark Foam blanks in Hamilton. We had a SKIL 100planer and my Californian workmate had a book on how to make a surfboard, so we just went for it and made ourselves a couple. Mine was a 6'5" round pin with a hideous green glass job and a wooden fin. I'd love to see it now to see what it really looked like! I made a handful more at that time, but didn't work in a real surfboard factory until Supersession took up the Clark Foam franchise.
After a couple of seasons in their Auckland factory, I headed off to Australia, where a succession of glassing jobs led to work at Miami Surf Designs with Gold Coast shaper Tony 'Doris' Etherington. He passed on a couple of handy tips, which I still use to this day.
I hadn't thought of building surfboards as a career until I went to the States in 1986. My friend K.T from Raglan introduced me to Gerry Smith, the shaper at Poi Dog Surfboards on the North Shore. He gave me a job glassing for him which led to a couple of years on Oahu and Kauai glassing boards for a large array of shapers, including Dick Brewer, Keone Downing, Pat Rawson and Billy Hamilton. These guys were the who's who of surfboard design at the time and it proved to be a rich experience at the centre of the surfboard shaping world at that time.
I had always wanted to check out California and a shaper mate named Randy Sleigh directed me to his hometown of San Clemente and Herbie Fletcher's Surf Shop, where, within a week, I was the fulltime glasser, doing about twenty boards a week.
Over the next three years I glassed boards around that area for many labels and shapers, including Herbie Fletcher, Infinity, Timmy Patterson, Chris McElroy, Brian Bulkeley, Stewart, Chris Slickenmeyer, Terry Senate, Garth Day, Darryl Butsko, and a fledgling Matt 'Mayhem' Biolosof 'LOST' fame.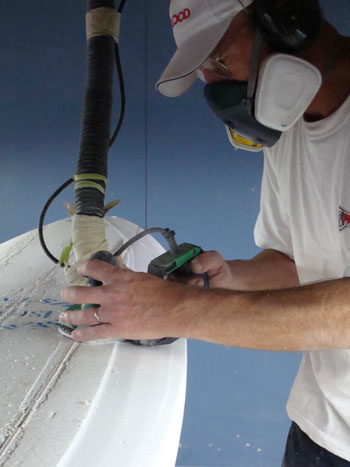 I continued to shape a few surfboards on the side, taking a few notes and trying to learn what I could from these guys.
It was during my stay in California that I rode a longboard for the first time. I had just come from Hawaii and I was finding the local beach breaks a bit underwhelming, when I took out one of Herbie Fletcher's 8'6" thrillers. I was hooked!
The longboard revival was well underway when I left California, but hadn't really hit New Zealand when I returned in the summer of '90/'91. Billy Hamilton licensed me to shape the BEAR label the next year, and I started producing long-boards and mini-mals, firstly through EXIT Surfboards in Christchurch, and then through a long association with Hughseyat the Raglan Surf Co.
Raglan Longboards was the logical next step on my journey and these days I'm shaping from my own premises behind our shop on Wainui Rd, on the way to the beach.
When I started surfing it was in a very non-competitive era and contests were rarely seen at Raglan, or in New Zealand full stop. I didn't compete on a regular basis until I was over 35, and entered the Masters and Longboard divisions of whatever was on offer. For the last few years, I have been competing in the Longboard Circuit around New Zealand, and have won both the over 40's and over 50's divisions in my time. Competitions are not everyone's cup of tea, but they are bloody good for your surfing and good for me as a shaper too. Likewise the feedback I get from my team riders is a constant source of new ideas and inspiration.
With each passing year, the average age of surfboard industry workers in the western world gets another year older and more and more money is being invested by large companies to find a way to undercut the labour-intensive methods that gave birth to the sport. If you carry this to its logical conclusion, the hand shapers will all retire or die, and surfers will all have to ride pop outs manufactured in the 3rd world. You can make your own mind up on that dilemma.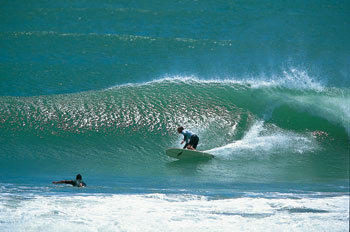 Call us dinosaurs, but we haven't moved our manufacturing operation to China just yet, nor do we intend to. We just keep doing what we're doing. I still hand shape each board and glass them myself with a small crew to assist, while my beautiful wife Sunny runs the shop and handles our business affairs.
The biggest satisfaction I get in life (other than surfing), is still when somebody comes up and tells me they love the board we made them! I still firmly believe that if you want to get maximum fun from surfing, talk to an experienced shaper about what is right for you. We are all different, and that's one of the joys of life, but as a result we all have different requirements from our surfboards. Our job is to listen to you and hand craft something that suits your body and style so you can be Happy in the surf.