LEASHES
FCS and Da Kine 6′, 7′, 8′, 9′ ankle and 9′ Calf. Price vary.
6' FCS Regular (7mm cord) $56.00
7' FCS Regular $60.00
8' FCS Regular $63.00
9' FCS Regular Ankle $70.00
9' FCS Regular Calf $75.00
BOARD BAGS
Stash-it Economy, Tour and FCS board bags are available. Prices Vary
Stash it Economy
A range of board sizes made from 5mm foam, PE. Comes in Malibu, Mini Malibu, and Fish; as well as regular shortboard shapes.
5'10"-6'6" $139.00
6'10"-7'6" $139.00
7'10"-8'6" $149.00
8'10"-9'2" $159.00
Stash-it Tour
A Malibu length bag made from 6mm foam, with a longer zipper and a finslot. Comes standard in reflective silver
9'2" $210.00
9'6" $210.00
DECK GRIP
Gorilla, FCS, Sticky Johnson tail pads
Prices vary.
WAX and WAX COMBS
Mr. Zogs Sexwax, Mrs.Palmers, Matunas
Sticky Johnson (100% NZ made),
Temperature and weight vary. Specify on order.
Price: all $5.00
WAX COMB: Mr. Zogs all $5.00
REPAIR KITS
Solarez 0.5oz $10.50
Solarez Epoxy 0.5oz $15.00
Solarez Weenie Travel Kit $12.00
Spongerez for Bodyboard 0.5oz $15.00
Neorez (for wetsuits repair) 2.0oz $28.00
SURFING HATS
FCS Surf Cap $50.00
Made from quick dry microfiber, and is guaranteed to stay on in pounding waves and features removable security cord with rashie attachment, a neoprene headband and adjustable straps for comfort and plastic fastener and eyelets which are non-corrosive
FCS Wet Bucket $55.00
Same features as the surf cap but with a wider brim that's designed to shed water after a duck dive
EAR PLUGS
Hearos ear guards (two pair with case) $18.00
SUN SURVIVAL
Island Tribe SPF 50 (100ml)                                  $29.00
Island Tribe SPF 50 (50ml)                                    $16.00
Aloe Kote                                                             $8.50
Sun & Earth Natural Zinc (sand or tan colour)         $26.00    
BOOKS, DVDS AND POST CARDS
New Zealand Surfing guide $44.00
STICKERS
Raglan Longboards small square(65mm wide)                          $1.00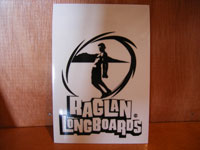 Raglan Longboards Round small x 2(Black and White on clear, 55mmwide)   $2.00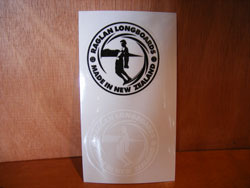 Raglan Longboards Round Large (Black or White on clear,107mm wide)         $3.00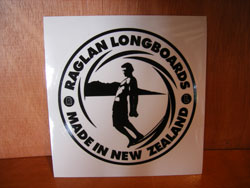 Raglan Longboards Karioi Large(305mm wide)               $5.00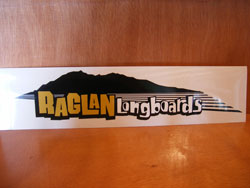 BEAR small(100mm wide) $2.00
BEAR medium(175mm wide) $5.00
BEAR Large(300mm wide)                         $7.00